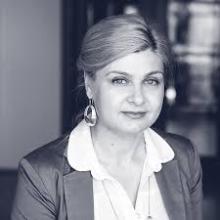 Teach For Romania's NEWTT Project Manager
Adriana has over 8 years experience in implementing educational projects for adults and young people and over 7 years as a trainer. She has experience as Financial Officer & Jr. Project Manager in projects of international organizations: Hulla & Co. Human Dynamics Human Dynamics and Romania; Roma Education Fund Romania - Mentoring & Consultant Training Coordinator. Human Resources Consultant & Trainer for local  organizations - Good People Association  and as a freelancer.
Adriana is a graduate of the Faculty of Physics, University of Bucharest and a graduate of two master programmes: Biophysics and Medical Physics - Faculty of Physics (UB) and Managerial Communication and Human Resources - Faculty of Communication and Public Relations (SNSPA).
Adriana manages the NEWTT project in Romania and sits in the Management Committee.