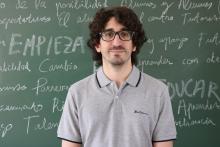 Project Manager for NEWTT
Pablo Millanes is the Head of Development of Empieza Por Educar.
He has a double Bachellor degree in Business Administration and Law (Universidad Autónoma de Madrid – with international stages at Cambridge and Tufts), a Master's Degree in Teaching in Secondary Schools (Universidad Complutense de Madrid) and a Master's Degree in Leadership and Corporate Social Responsibility (Universidad de Alcalá).
Prior to his role at Empieza por Educar, he was Fundación Hazloposible Head of Partnerships and Corporate Social Innovation and Barclays Community Investment Manager for Spain and EMEA, where he managed over than 40 social projects that helped more than 10.000 young disadvantaged people to develop their employability and financial skills. Pablo is also an alumn of Empieza por Educar's first cohort.