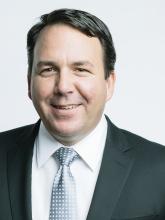 Vienna Board of Education's Project Manager for NEWTT
Patrick was teaching in a secondary school in Vienna and became pedagogical advisor at the Vienna Board of Education (Stadtschulrat) in 2001. From 2010 to 2015 he was head of the Executive President's office. Since 2015 he is member of the Executive President's staff and school inspector of the compulsory education schools in the 20th district of Vienna. 
As representative of the Stadtschulrat he was involved in the "Teach for Austria" project from the beginning.